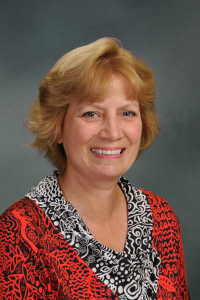 It is an honor and a privilege to serve you as the principal of OLL School where each child is a blessing and receives a high quality education in a family atmosphere by a wonderful and caring school staff.
Some of you may know me as the 6-8 grade teacher of religion and language arts at OLL School, but I also have an extensive, 35+ year history in Catholic Education.
I have been employed at four different Catholic schools in the Diocese of Superior.
I began my teaching career at Cathedral School in Superior, in 1982. I taught there for one year and then moved back to my hometown of Bayfield, where I grew up on our family farm called Betzold Orchards. I taught at Holy Family School in Bayfield for 14 years. After that, I was hired at St. Louis School in Washburn where I served as both the principal and part-time teacher for 12 years. I then moved to OLL School and taught jr. high religion and language arts for 5 years. I have my Bachelor of Science in Elementary Education with a specialization in Science and a Masters in Educational Administration.
I hope to serve you well as the principal of OLL School and want to continue to promote the loving, caring and nurturing atmosphere we have at our school.
Thank you so much for choosing me as principal and entrusting your child to us as partners in learning. I am excited with the challenge and thrilled at the prospect of building an even stronger community of happy learners and promoting our wonderful school to the Chequamegon area.
Mrs. Betty Swiston